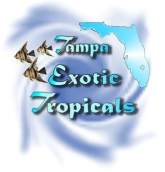 Click the TET logo above to return to the Main Page.

Here you will find all the current price lists available from Tampa Exotic Tropicals. All of our Price List are in .pdf format. You will need adobe acrobat to open these price lists. Adobe Acrobat reader is available for free.

Once you have installed Adobe Reader on your computer, you can easily open the lists for viewing and printing.